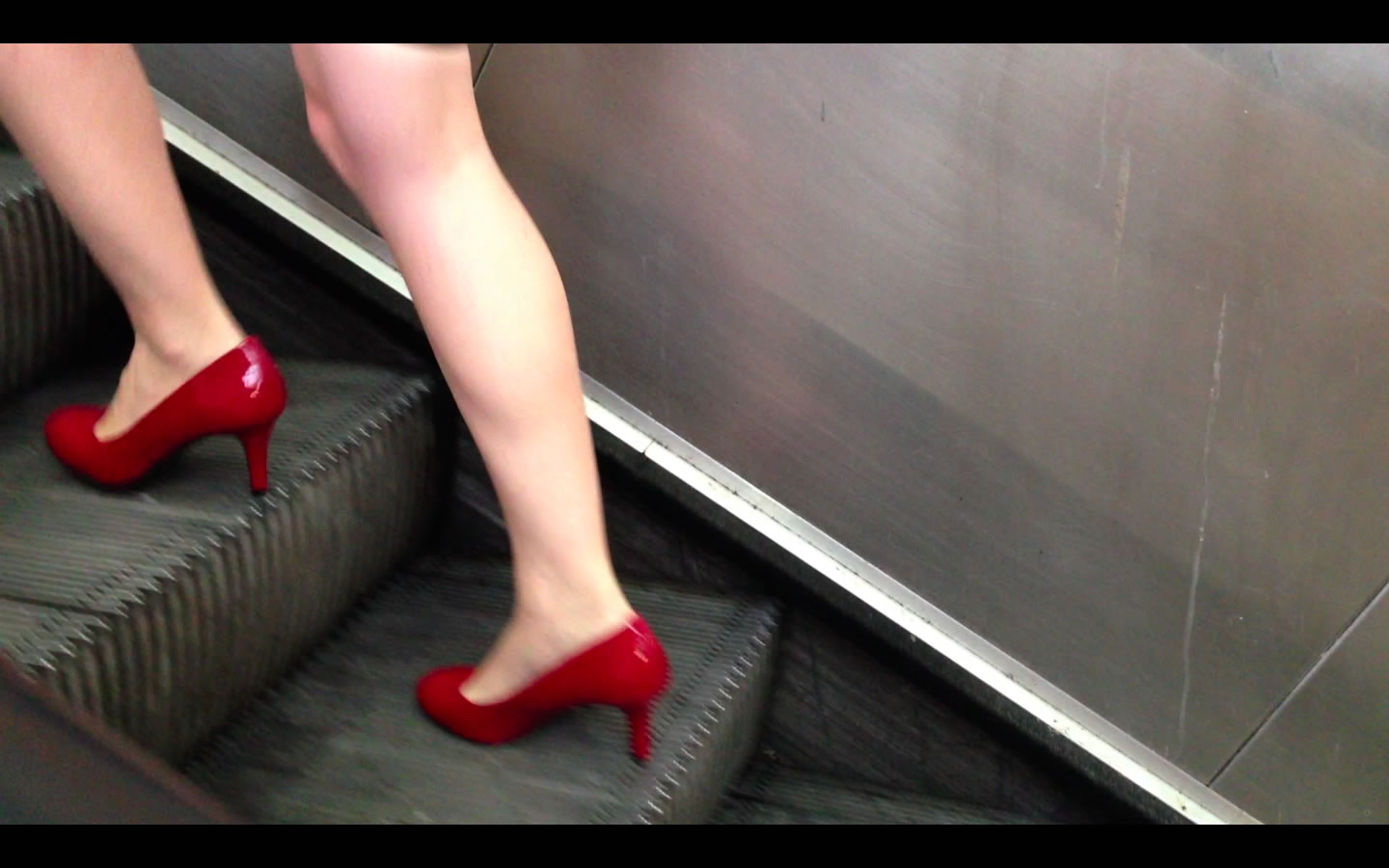 Photography by Lindsey French 
Sarah's Story
I am an interdisciplinary artist and Assistant Professor of Art at Nebraska Wesleyan University. I enjoy the rhythm of the academic schedule as it dovetails with my art practice. During the summers and winter break I attend artist residencies and have exhibitions. Last summer I had the opportunity to go to the Cedar Point Biological Station near Ogallala for two weeks and make art alongside scientists who were doing their research. Since I didn't know that part of the state, it was a great way to get to know that landscape. The performance series I was working on while there is called I Just Work Here.
These performances are inspired by my work experiences in various locations and environments. For example, I Just Work Here – Episode 2: The Commute was inspired by my hour long commute to and from work at the School of the Art Institute of Chicago. The performance was 40 minutes of walking upward on a down escalator in a subway station, while wearing business attire – heels, a pencil skirt, a blouse and makeup. The Commute reflects how the distance covered in a commute is a net distance of zero. As commuters we spend a lot of time in moving in circles.
Thinking back to my parents' choices to be homemakers and artists I learned at an early age that we can shape our work lives much more than we often allow ourselves.
The character I embody for the series is a caricature of the workingwoman, a feminine persona that I have donned for some of my jobs, especially as a woman in the tech industry. This character has a controlled sexiness that gives her some power by playing into a stereotypical gender-role and satisfying the male gaze. Many of my performances communicate an element of frustration, which is related to the fact that women in our culture are always defined by their bodies even if the work they do is mental rather than physical.
The more recent episodes of I Just Work Here visualize the transposition of my work and personal life from an urban metropolis to Nebraska. Some of the tools, ways of working and dressing that are effective in a large city are out of place here. Therefore, Episodes 3-5 are awkward juxtapositions of the workingwoman character in rural landscapes.
In a larger sense, the I Just Work Here series raises questions about what work is. Thinking back to my parents' choices to be homemakers and artists I learned at an early age that we can shape our work lives much more than we often allow ourselves.
About Sarah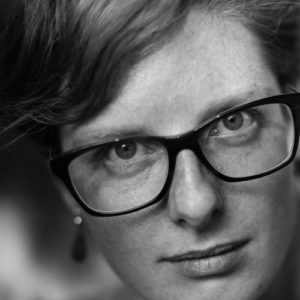 Sarah Berkeley holds an MFA in Art & Design from the University of Michigan (2011) and a BFA with Distinction in Studio Art from the University of Nebraska-Lincoln (2002). She is the recipient of several Nebraska Wesleyan Faculty Development Grants, the Ameritas Grant, the City of Chicago Community Arts Assistance Program (CAAP) Grant, the Smucker-Wagstaff Research Grant, the Rackham Research Grant, and the University of Michigan School of Art & Design International Travel Grant. Sarah Berkeley was born on the North Shore of Massachusetts and subsequently spent her childhood in Michigan and Colorado. Between high school and college she lived in Ireland for six months. During her undergraduate studies at UNL she spent a year in Madrid, Spain. At the completion of her degree she began her career as a web designer in New York City and in 2003 moved to Berlin, Germany to pursue her art career. While there, she co-founded the Berlin Collaborative Drawing Group and discovered a passion for teaching. After three years in Berlin, she returned to the United States to prepare for graduate school. Prior to her current teaching position at Nebraska Wesleyan University, she taught at the School of the Art Institute of Chicago.
Her artwork has been collected and exhibited internationally including at Rutgers University, The Ann Arbor Film Festival, Defibrillator Gallery, New Capital, Roman Susan, Mana Contemporary, Chicago Artists' Coalition, Work Gallery Detroit and Mercury 20. Her artwork has been published in Quarterly West, the Archways Magazine, and OVERVIEW by LAND and SEA. She has completed residencies at The Ragdale Foundation, Vermont Studio Center, ACRE, the Cedar Point Biological Station and 8550 OHIO.
Go to www.sarahberkeley.com to see more of Sarah Berkeley's work and the I Just Work Here Series