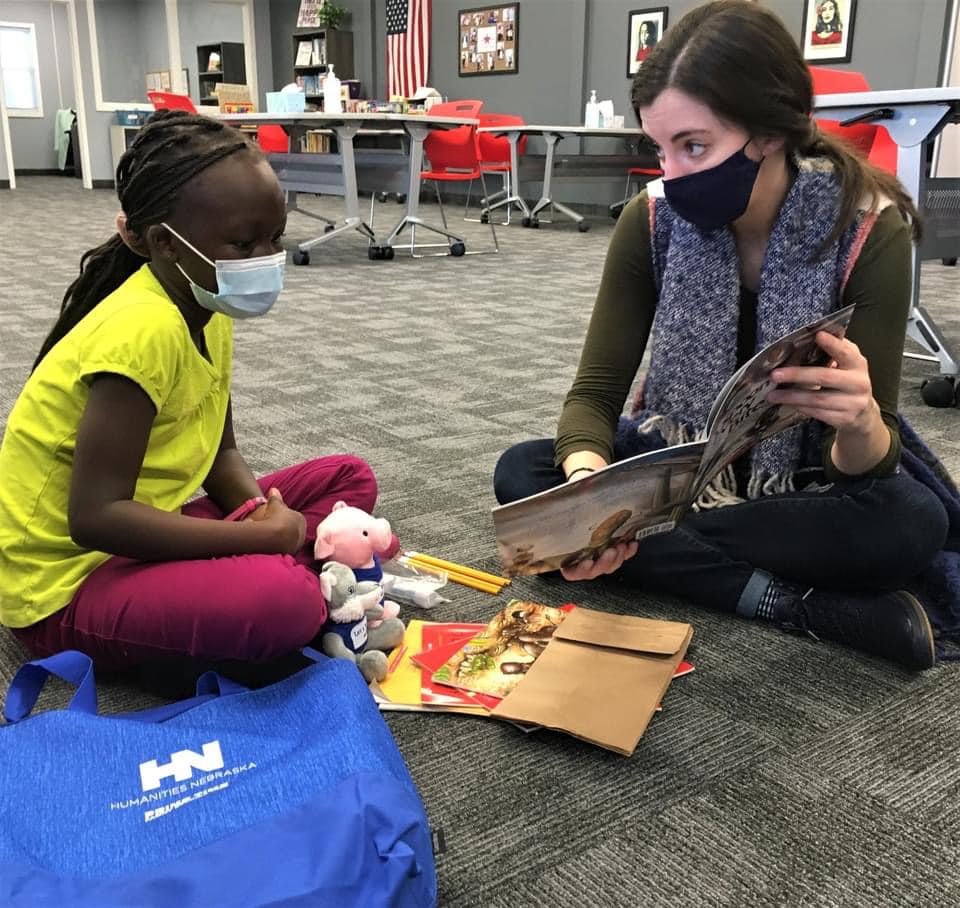 Prime Time First Aid Kits Bring Joy During the Holiday Season
During the final week of 2020, Prime Time First Aid Kits were distributed by Humanities Nebraska staff to children and their families to promote literacy during a challenging time for many.
A total of 274 Prime Time First Aid Kits were distributed to 16 sites across the state. Sites that planned on offering Prime Time in 2020 but were unable to due to the pandemic were eligible to receive the kits.
Karolee Gleason, third grade teacher at Norfolk, shared a touching story about a girl in her class who asked if she needed to return the books to school. In the past, participants in Prime Time would return the book that was issued to them for Prime Time Family Reading. Upon learning that she did not need to return the books, a smile that went from ear to ear lit up her face. "I can keep ALL of them?" she asked. Imagine her excitement at learning that she could keep everything in the bag. This is just one magical moment of many brought about by Prime Time Family Reading Time. The NCE, thanks to its donors, is proud to join the supporters  who helped fund the First Aid Kits.
Prime Time First Aid Kits were distributed at the following sites:
Bryan Elementary – Millard
Grand Island Public Library
Learning Community Center of North Omaha
Santee Community School
Spring Lake Magnet School – Omaha
Hastings Public Library
First Club Elementary – Omaha
Holling Heights Elementary – Millard
Keene Memorial Library – Fremont
Grant Elementary – Norfolk
Everett Elementary – Lincoln
Huntington Elementary – Lincoln
Bennett Martin Public Library – Lincoln
Nelson Mandela Elementary – Omaha
Arnold Elementary – Lincoln
Calvert Elementary – Lincoln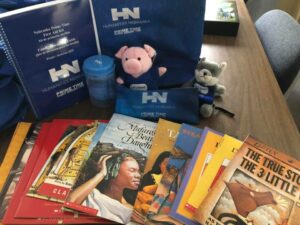 The Prime Time First Aid Kits came in sturdy blue tote bags full of the following items:
The True Story of the 3 Little Pigs by Jon Scieszka (bilingual)
A Spoon for Every Bite by Joe Hayes (bilingual)
Too Many Tamales by Gary Soto (English & Spanish copies)
Coyote Steals the Blanket: A Ute Tale by Janet Stevens (English)
Anansi and the Moss-Covered Rock by Eric A. Kimmel (English)
Mufaro's Beautiful Daughters by John Steptoe (English)
The Paper Bag Princess by Robert Munsch (English & Spanish copies)
Ruby's Wish by Shirin Yim Bridges (English & Spanish copies)
Doctor De Soto by William Steig (English & Spanish copies)
Bilingual guide for families with discussion questions, activities, suggestions for further reading, and blank pages for writing and drawing
Scholastic's First Aid for Feelings workbook
Pencil pouch filled with pencils, crayons, and a pencil sharpener
Plush pig and plush wolf
Measuring cups with HN logo
Flashlight
Sand timer
Paper bags (lunch size) for one of the activities
Nebraska Cultural Endowment is proud to partner with Humanities Nebraska on programs such as Prime Time Family Reading that change the lives of children and their families.