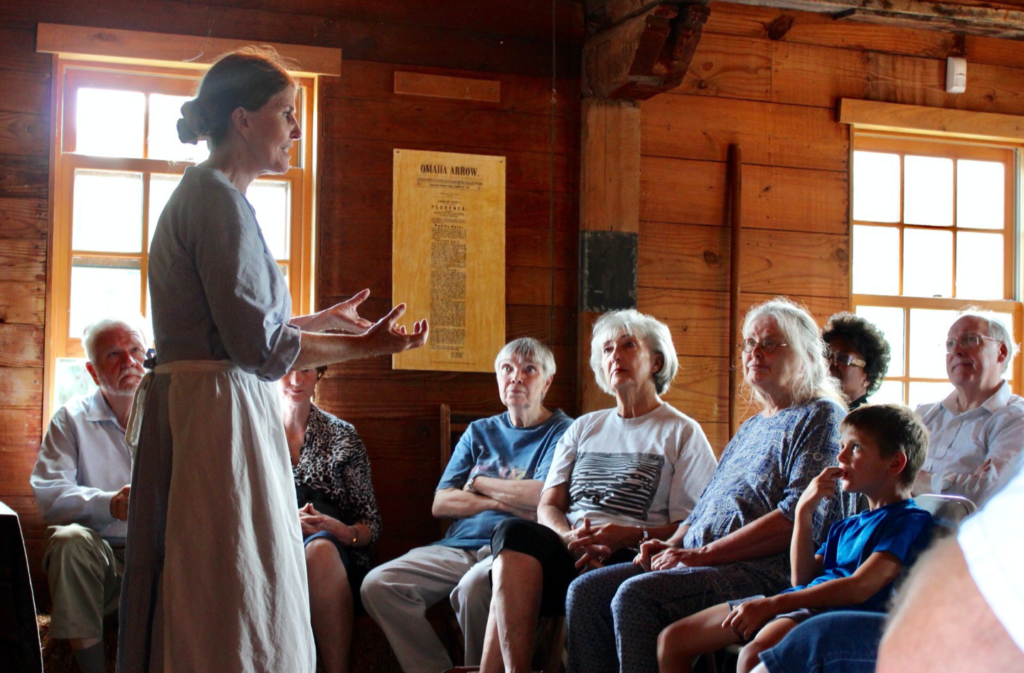 Touching Hearts, Minds and Lives Through Speakers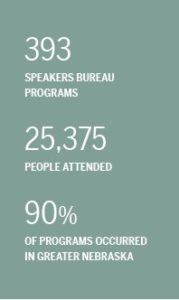 The Speakers Bureau is a Humanities Nebraska program that provides expert speakers and serves between 25,000 and 30,000 Nebraskans annually. Topics include Nebraska literature, music, storytelling and history. Hundreds of rural and geographically isolated libraries, museums, senior centers and schools, as well as other nonprofit organizations benefit from the program.
Cherrie Beam-Callaway, one of the Bureau's longtime speakers, has delighted more than 100,000 children and adults across Nebraska with her storytelling. Cherrie grew up in the sandhills and is a fifth-generation Nebraskan. Her stories reflect the diversity of historic tales gathered from families in the state.
I'm honored to help an audience feel and see what being a homesteader was like.

Cherrie Beam-Callaway

Speakers Bureau Speaker
"I'm honored to help an audience feel and see what being a homesteader was like," said Cherrie. Audiences are transported back in time to walk the wagon trail, live in a dug out with only corn meal for food, and endure tornadoes and blizzards. Audiences experience tears at the emotional hearing of a child dying with diphtheria and laughter at learning of dances using a pitchfork as the only instrument.
One attendee recalled, "I was right there with her, crying while she described her starving children. I have a new appreciation for what it took to homestead this country."
With your support, you make these thought-provoking and unifying programs possible. If you would like to expand your support for this important mission well into the future, contact the NCE at 402-595-2722 or kyle@nebraskaculture.org.