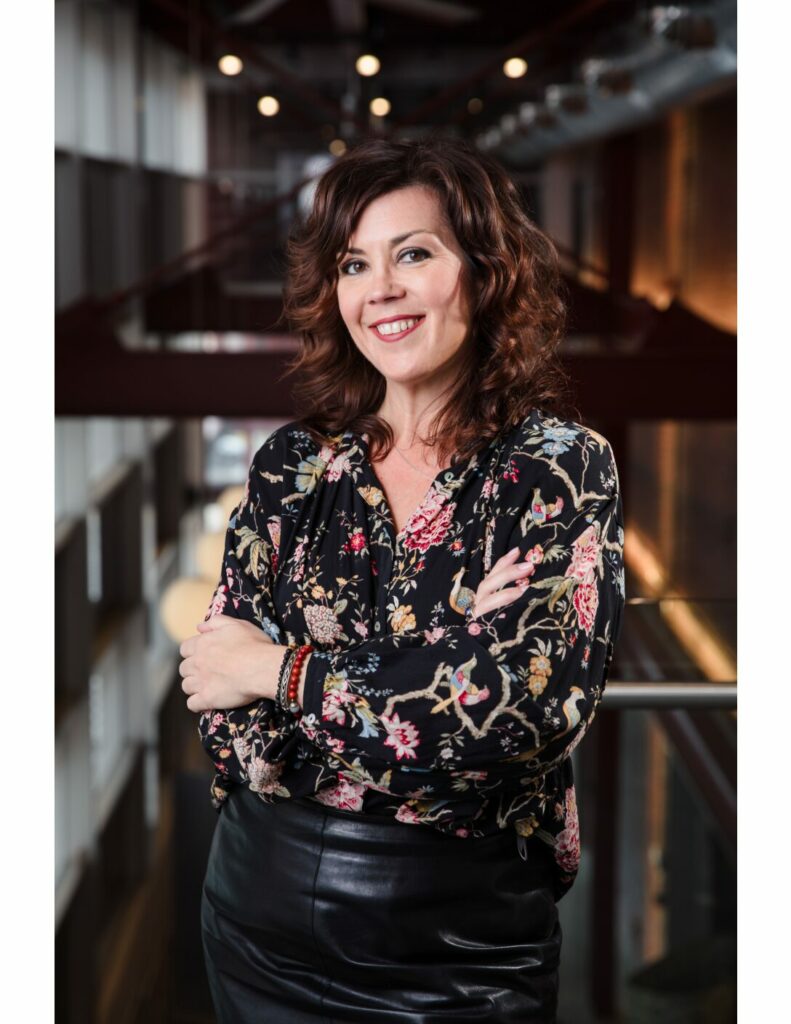 Meet Maggie
The Board of Directors for Nebraska Cultural Endowment is excited to welcome Maggie Smith as NCE's new Executive Director.
Maggie most recently served as Director of Operations at KANEKO, where she co-lead fundraising and development strategy, while overseeing marketing, communications, programming and operations. Prior to joining KANEKO in 2019, Smith taught college writing courses while working in innovative product and program management at Yahoo! In addition to her tech industry experience, Smith also co-founded a nonprofit in Dublin, Ireland, focused on creativity and writing. She managed strategy in development, marketing and operations while creating curriculum and teaching.
Smith will lead NCE's efforts to raise private donations which will yield combined endowment funds of more than $40 million resulting in more than $2 million in annual distributions to arts and humanities programs across the state.
Learn more about Maggie in this interview!
What excites you about joining NCE?
I'm really looking forward to meeting all the dynamic, generous, and creative people who see the unique and important impact that the Cultural Endowment has on the arts and humanities in Nebraska. I also look forward to going to programs, exhibitions, workshops, and more to see, first hand, all the inspiring things the endowment supports throughout our state. I'm very charged by the idea of having a part to play in that!
What were some of your duties at KANEKO that will come in handy at NCE?
I spent a lot of time on communications at KANEKO. How you engage with your audience and get folks to see the value and impact of what you do is critical in securing support. My most valuable tool is telling the story and the Cultural Endowment is a truly inspiring story of people creating a way to assure that arts and humanities will be a priority in Nebraska forever. I believe those skills will come in handy while developing relationships with everyone interested in providing support for the Endowment.
Tell us what you learned while you lived abroad?
Living abroad showed me that no matter where you go, communities are enriched both creatively and financially by the arts and humanities. Human beings instinctively embrace creativity, art and learning and the healthiest societies, big and small, are those with established and robust arts and humanities.
You have a very apparent passion for arts and humanities. Where did that originate?
I come from a family that valued the arts and humanities and it was a huge focus in my life. I grew up in a small town in Iowa and my parents would drive me to the Omaha Community Playhouse when I was a little girl to take acting lessons. We went to the library weekly and everyone in my house was always reading something. Although academics were important, the liveliest conversations in my family were around what we were singing in choir, what play was up next, what is the best book you're reading in English class. To my family, art was the fun, activating part of life.
What do you hope to do at NCE in 2022?
I hope to keep up the incredible work that Kyle Cartwright and the amazing board at NCE have done to create such a strong and vital organization. My background in communications and storytelling should create some interesting opportunities to continue to tell the NCE story in Nebraska so that everyone knows what a truly amazing resource it is and how lucky we are, as Nebraskans, to have this incredibly impactful organization in our state.
Tell us what you do when you're not working to recharge and refuel your soul?
I love to walk and hike. It's my daily meditation. My daughter and I enjoy cooking together; as she's growing older, we're finding that making food is a great way to connect and recharge at the end of the day. I read fiction and poetry but probably spend most of my reading time trying to get through my rather large stack of New Yorkers.