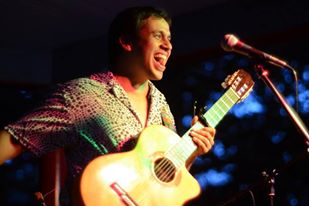 Music Is My Livelihood
Daniel Martinez in concert
Photo by Stephen McAlister
Daniel's Story
Music has been an important part of my family's life since I was a child. For my 14th birthday, my mother gave me an old guitar and I started playing. When I was singing, it felt like I was following someone else's rules. But when I played the guitar, I made my own rules.
 I listened to and was influenced by all types of music; classical, rock, Christian/worship, reggae, Spanish. But I found that I especially enjoy rumba and flamenco music. Being from Iquitos, Peru, I quickly discovered that it was not possible to support myself playing music there.
 Doing music professionally became a possibility when I came to the United States. The economy and art culture is so different here. It is remarkable how one plane flight can change your destination – not just geographically, but for your entire life.
It is remarkable how one plane flight can change your destination – not just geographically, but for your entire life.
 I have lived in Georgia, California and Colorado, but it is Lincoln, Nebraska that gave me the opportunity to concentrate on music full-time. I still get discouraged at times when I think of how to support my family, but the love and passion for music are strong motivators. Whether I am teaching, writing, performing or even working my sales job at a music shop, I look forward to going to work. I don't know what your Mondays are like, but the difference for me is that I love my work. Music has opened so many doors for me, both as a solo performer and playing with my band, Jarana. The guitar has allowed me to find happiness and to share it with others. You can cover a lot of ground with just six strings.
 My dreams are not so much about being "famous" or "popular," but rather to be responsible to share what I have, and where I am from. To authentically express who I am will take me to the next stage of the journey. Wherever the door opens and I have the chance to share my music. I am open and willing for whatever the world holds for me.
About Daniel
Daniel Martinez, Flamenco guitarist, hails from Iquitos, Peru. Martinez picked up the guitar as a teen, but it wasn't until he moved to Lincoln to attend college that he started to take his music seriously. He mastered classical guitar and won national guitar competitions. Martinez is guitar professor at Union College and offers private and group lessons for all ages. He performs with his band, Jarana and with Kusi Taki. He is a Nebraska Arts Council teaching and touring artist. Martinez became a Kennedy Center Teaching Artist in 2015. He is available for performance as well as lecture/demo and workshops.
Click to learn more about the Nebraska Arts Council teaching and touring artist program.