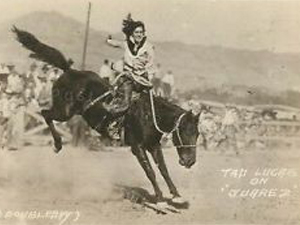 Nebraskans Invited to Attend Women's History Month Event:
"Well Behaved Women Seldom Make History"
Humanities Nebraska (HN) has announced a free on-line event in honor of Women's History Month and the nonprofit organization's 50th anniversary year. "Well-Behaved Women Seldom Make History" will be offered at noon central/11 a.m. mountain on March 15. Anyone can receive free online access by registering on EventBrite: https://tinyurl.com/WellBehaved. This event is sponsored by HBE CPAs & Consultants.
"Well-Behaved Women Seldom Make History" is a popular selection from the HN Speakers
Bureau. Presented by Deb Carpenter-Nolting and Lyn Messersmith, the event will feature
stories, songs, and poems about women who left footprints on history by stepping out of place. These include female stagecoach robber Pearl Hart, Nebraska author Mari Sandoz, and Nebraska legend Tad Lucas, lady bronc rider.
This is the first in HN's new "Curiosity Connections" series to celebrate the HN Speakers Bureau. The bureau has been the mainstay of HN's programming for 40 years and provides communities across the state with engaging speakers who spark learning and discussion in schools, libraries, senior centers and other venues. Historians, scholars, and other experts offer more than 250 different humanities programs. Any nonprofit organization may apply to host a Speakers Bureau program for a very low cost. For more information, please visit humaitiesnebraska.org.
Humanities Nebraska is celebrating 50 years of what connects us and makes us human. Let your
curiosity get the best of you and discover events throughout 2023 and during Humanities Week in October. HN is a private nonprofit with a mission to help people explore what connects us and makes us human. HN is funded in part by the NEH, an appropriation from the Nebraska Legislature, private donations, and the Nebraska Cultural Endowment, a public-private partnership with state dollars matching private dollars to benefit the arts and humanities in Nebraska.