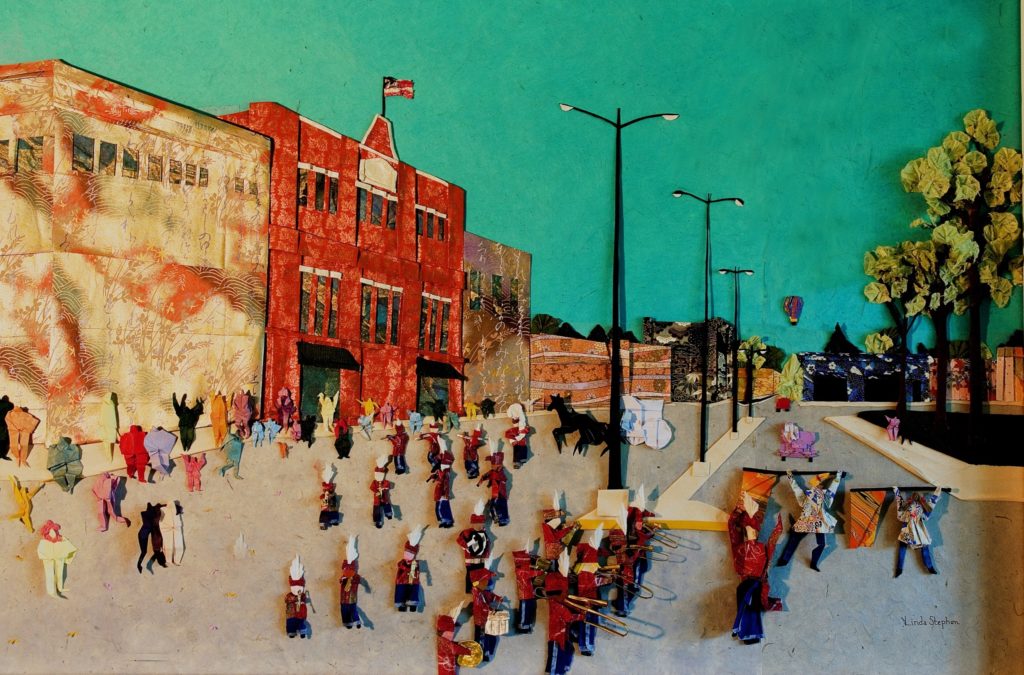 Origami Art is My Livelihood
Inspired by the Minden Opera House, 1891, and the community of downtown Minden, Neb., "Our Band" origami collage by Linda Stephen is part of the permanent collection of the Minden Opera House and is on display in the Minden Opera House lobby. "Our Band" (28" x 40") is inspired by the community and talent of small towns.
Linda's Story
The goal of my art is to celebrate both the festive and the quiet moments in our "everyday" lives – from the bustle of farmers' markets to the rustle of corn leaves in a maze.
After college, I lived, worked and studied in Japan for seven years.
Traditional origami, started about 1,500 years ago, is the Japanese art of folding squares of paper into representational shapes. My origami collage landscapes represent a new
and unique approach to this ancient tradition.
For my medium, I use a wide variety of handcrafted papers, primarily Japanese in origin. Chigiri-e hand-dyed papers are tissue-thin; vibrant yuzen fabric papers are hand-silkscreened in patterns originally designed for the silks of the Japanese royalty.
Colors, patterns, textures and shadows found in the papers themselves, and those created through the folding process, are key design elements in my art.
Colors, patterns, textures and shadows found in the papers themselves, and those created through the folding process, are key design elements in my art. I use color to evoke feelings – choosing from hundreds of handmade papers. Then I invent origami 3D paper sculptures that add shadow, give dimension and bring my work to life. Sometimes a landscape will incorporate a thousand or more paper sculptures in dozens of patterns and colors.
I have lived and traveled around the world. There is beauty of place, and of spirit, all around us, though these are often overlooked in our hurried world.
Since moving to Nebraska in 2005, I have loved exploring the state. This summer, as an artist in residence with the National Parks Service at the Homestead National Monument of America in Beatrice, I started a new series "House and Home," which honors the history of homesteading and also celebrates the restored tallgrass prairie at HomesteadNM. The series will be unveiled at the Nebraska Arts Council's Fred Simon Gallery in Omaha from December 29, 2014 through February 6, 2015. The opening reception for the art exhibit "Great Lakes to Great Plains" with ceramics artist Iggy Sumnik will be held Friday January 9, 2015 from 5-7 p.m. and is open to the public.
It is my hope that my origami art inspires viewers to see the treasures that are near or next to us.
About Linda
Linda Stephen has lived in Nebraska for almost 10 years. Her origami collage landscapes combine the Japanese paper arts of origami (paper folding) and chigiri-e (painting with paper scraps). A former translator and editor, Linda has been collecting Japanese handcrafted papers for 25 years. Linda uses the "simple" medium of paper to celebrate the beauty and places of our "every day" lives. Her origami landscapes are part of public and private collections across the U.S. and Japan and include commercial commissions such as the Tobacco Free Nebraska TV ads of animated origami dollar bills. See more at http://www.lindastephen.com/.