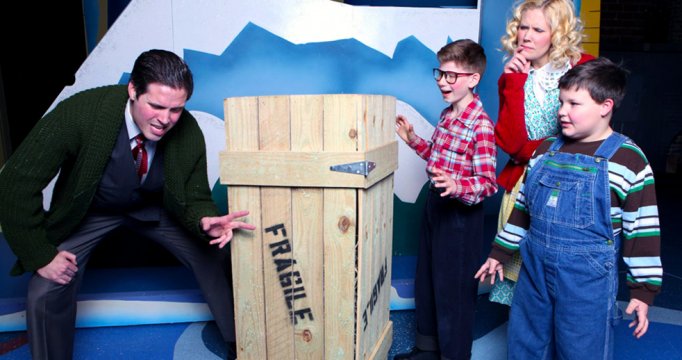 Quality Family Time is My Livelihood
A Christmas Story: The Musical  Based on the motion picture, A Christmas Story now playing at The Rose through December 28, 2014.
Matthew's Story
I remember seeing my grandmother and mother laughing so hard that tears spilled from their eyes.  We were witnessing a production of an obscure satire called The Hot Mikado.  I was seven years old and that is the only lingering image from my first experience attending professional theatre.  Years after my grandmother's passing, that joyous mental picture is still one of my most cherished- seeing the people I love happy spending time together.  Giving others that same opportunity is my livelihood.
Linking that particular experience and my chosen vocation took years.  Like many people in the theatre field, I acted onstage.  I also wrote plays.  I also directed plays.  Eventually, I studied theater management at the graduate level in the belief that shepherding institutions to stability produced a certain guarantee of permanence to the endeavor of making live performing art.  The increasing tally of opera, symphony, and theater closures in recent years all but shatters the illusion of permanence in this field.  The very nature of our work is ephemeral, and that is what makes it so special.
At The Rose Theater, we acknowledge the impermanence of an art experience while aiming to make it stand outside the boundaries of time.
At The Rose Theater, we acknowledge the impermanence of an art experience while aiming to make it stand outside the boundaries of time.  We make art for children and their families, so like childhood itself, we believe a permanent and positive mark can be made on the world by holding steadfast to the belief that love is the only reality that matters- far more than commerce, politics, or even death itself.  That image of my grandmother and mother has the power to guide me at any moment in my adult life- at the grocery store, in traffic, and even at work.  It represents a choice to be gentle, silly, and powerful.  Art of all kinds has the potential to help us achieve such a reality.  For me, a desire to make art for families arose out of a serious search for something real, something that heals, something that makes us laugh.  All I did to find that was return home to what made me, not the theatre, but the people.
About Matthew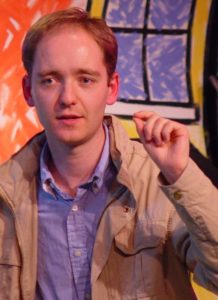 Matthew Gutschick's recent directing credits at The Rose include last season's Robin Hood and Ramona Quimby.  Other directing credits include The Sparrow, Twelfth Night, and Anon(ymous) at the Interlochen Center for the Arts, Wuthering Heights at the Mint Theatre in New York, and Whacked Fairy Tales at Twin City Stage.  His plays have been workshopped/produced by Wordsmyth Theatre Company, Horse Trade Theater Group (NYC), Reverie Productions (NYC), Tri Sate Actors' Theatre, and Magic Chicago.  Matthew's work for MagicMouth Theatre won a New Horizons Playwriting Award and the company premiered a new magic-theatre piece, A Christmas Carol In Prose with Parallel 45 in Traverse City, MI.  He is the former artistic director of the Children's Theatre of Winston-Salem and completed a fellowship with the Children's Theatre Company in Minneapolis under the mentorship of Peter Brosius.  Matthew assisted Peter Brosius on productions of 500 Hats of Bartholemew Cubbins and A Christmas Story.  He is a former Managing Director of the Yale Cabaret where he produced over 14 world premieres.  Matthew is also the recipient of a Ewing Marion Kauffman Foundation Fellowship in Entrepreneurship, a member of the Lincoln Center Directors Lab, and a graduate of the School at Steppenwolf.  He holds a BA in Theater from Wake Forest University and received an MFA in Theater Management from the Yale School of Drama.  He is in his third season as artistic director of the The Rose.
For more information about The Rose and current productions: http://www.rosetheater.org/