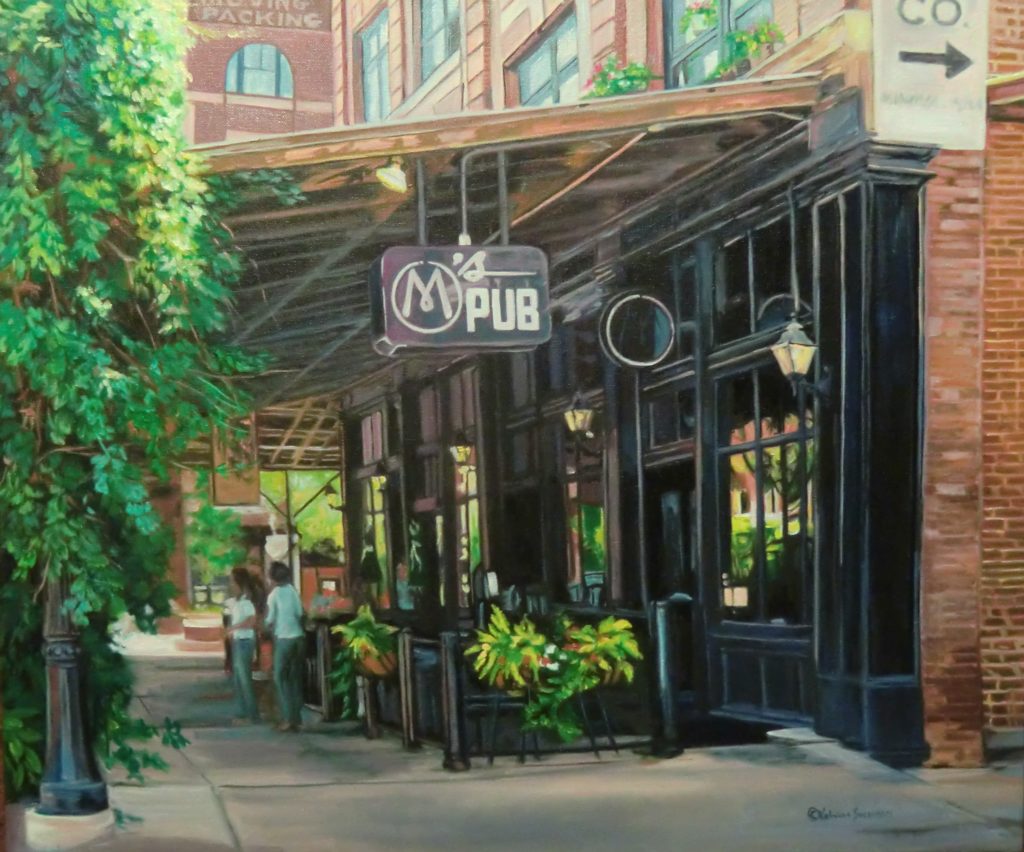 Painting Is My Livelihood
Summer Day at M's
Katrina's Story:
One of the first questions people ask me when they find out I'm an artist is "How long have you been painting?" It always makes me try to count backwards and figure out how long has it been, really? I usually say about 30 years but thinking back it was even earlier.
As a child I watched my mother paint in our kitchen. She would set up her oil painting kit on the kitchen table and sit in the bright afternoon light. I still remember the smell of paint and turpentine as she worked on her landscapes. I wanted to pick up a brush and paint, too. I would sit beside her and beg her to let me paint. She eventually would take pity on me and let me paint on a little canvas panel. I loved art from those early moments and it became all I wanted to do. Luckily my parents were supportive.
I was going to Metropolitan Community College to become a commercial artist when I was first exposed to using watercolor paints. I decided to use watercolors to make a pamphlet to complete an assignment. Through trial and error I managed to finish the project. I was hooked on watercolors from that time forward. Over the next 15 years I won several awards for my watercolor paintings, including the Winsor Newton Award, given by the National Watercolor Society, and I was awarded Signature Member status by the National Watercolor Society.
In 2003 I decided to switch mediums to oils. Watercolor is a challenging medium, but I had become bored. I needed to challenge myself, too, and I think I had achieved all I could with watercolors. I wanted to tell stories with my paintings and for some reason I couldn't do it with watercolors. It took me awhile to develop my style in oils and to learn what exactly I wanted to paint. My current series of paintings concentrates on urban scenes in Omaha's Old Market and Midtown. I've been including more figures to add more storytelling to the painting.
About Katrina: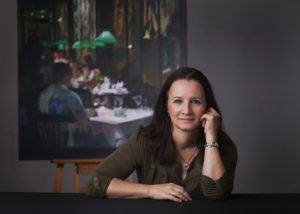 Katrina Swanson's artwork will be a part of the Spirit: A Celebration of Art in the Heartland 2016, Kearney, NE from March 12-April 3, 2016.
Katrina displays her work at the Artists' Cooperative Gallery, 405 S. 11th St., Omaha NE; The Burkholder Project, 719 P St., Lincoln NE; Ginger's Hang-Up, 8455 Frederick Street, Omaha NE; and Robert Paul Galleries, 394 Mountain Road, Stowe VT.  Click Here to see more of Katrina's work.