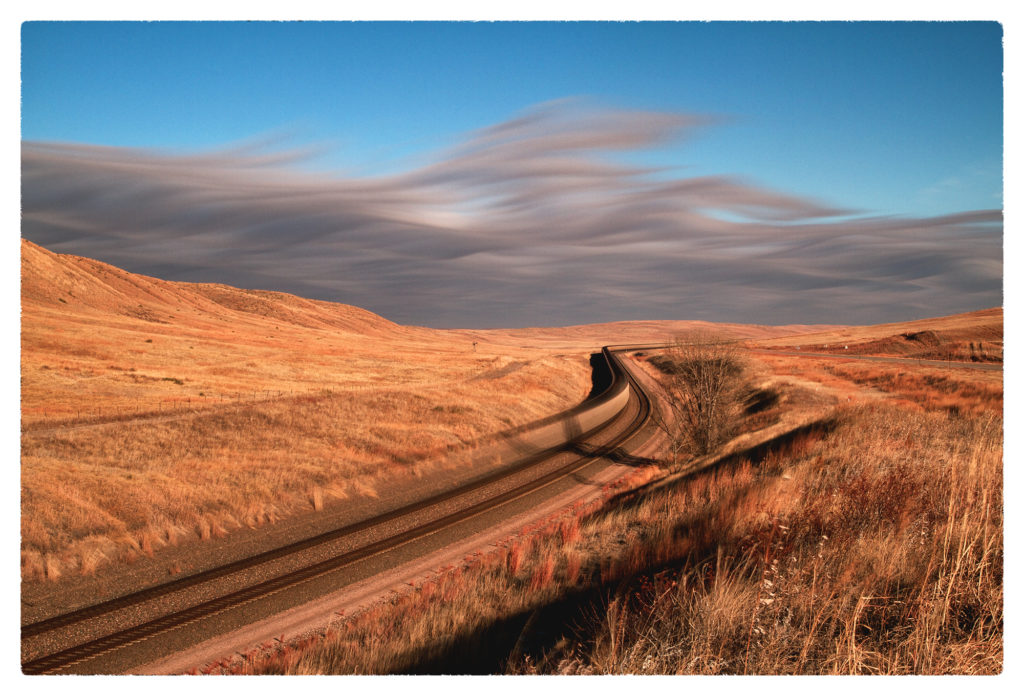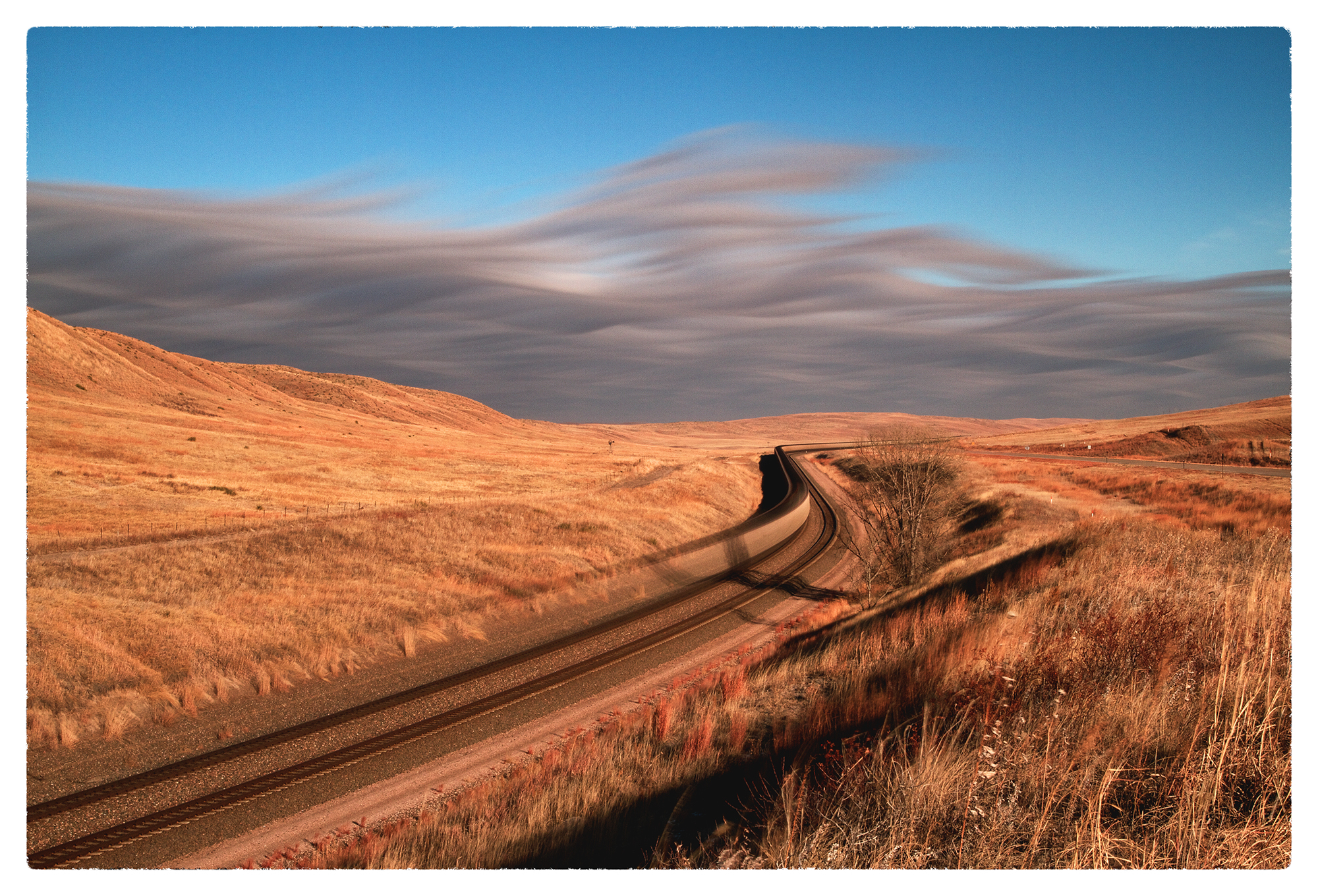 Remembering Is My Livelihood
 High Plains Trains
Brett's Story
As a boy, coarse wheat fibers and tender corn silk in July were the threads which wove together the quilt that was my world. My playmates were weary and stoic cottonwoods, their arms apathetic even as I embraced them readily, and with love. Mine was the azure, and the gold, the brown of harvest and the green of spring, the sensual curve of a grass-hidden sandy dune whose advances were never seductively successful for a matrimony with trees. A skyscraper was a thunderhead, a subway the burbling creek. These, my muslin; the horizon, my patchwork.
I see. Not as one might think, not 20/20 or with blue eyes, but with open eyes, searching, composing, and loving. I must exist beneath the sun, for as my mentor taught me, that is what photographers do: We must be in the light, for life in light is enough. I am a child of Nebraska, and though I left the state for a time, it was that light, that patchwork, that life that called me back. I find inspiration in my own backyard, the great open spaces of our truly Great Plains.
As descendants of the pioneers, our instinct is often to go, to find, to see, but I argue that we also must stay.
I am a professor of photography and media at Hastings College, and I am also fortunate to work with students who often also find the Great Plains great. But there are also those who see only a need to escape, purging the wide horizon from their consciousness and memory. They are not to blame. As descendants of the pioneers, our instinct is often to go, to find, to see, but I argue that we also must stay. Embrace. Rejoice. Celebrate.
I recall a passage from Cather's A Lost Lady:
"This was the very end of the road-making West; the men who had put plains and mountains under the iron harness were old; some were poor, and even the successful ones were hunting for rest and a brief reprieve from death. It was already gone, that age; nothing could ever bring it back."
Ours, this Nebraska, is subtle. Subtleness is fragile, and it quietly asks our respect. And when we give it, we learn. We are enriched. We are made new. My art and my life are of the Plains and of the West, questions of tradition, memory, and modernity.  My vocation is helping others to begin, but more importantly, to remember.
About Brett
Brett L. Erickson grew up in central Nebraska, five miles from the nearest small town, learning the beauty of the landscape and its details firsthand. A
former journalist, his photographs and reports have been published by media outlets including National Public Radio, American Public Media, Marketplace, and Nebraska Educational Telecommunications, as well as newspapers in Nebraska and Oregon.
His award-winning documentary and fine art images have featured in exhibitions throughout North America, and have earned acclaim from a wide range of photographers including Sam Abell, Richard Olsenius, Peter Ralston, Luther Smith, Aline Smithson, David Michael Kennedy and Bill Wright. Along with working as an instructor at one of the world's premier centers for photography education, the Santa Fe Photographic Workshops, Erickson teaches photography, journalism, and online development at Hastings College. He and his wife, Irina, reside in Hastings, Nebraska, with their two children, Keira and Ian.
More information on Brett L. Erickson's work can be found at: www.brettlerickson.com
Brett's work will be exhibited with the work of Patricia James in the Fred Simon Gallery located in the Nebraska Arts Council offices  from April 20- May 26, 2015 with an  Artist's Opening Reception on Friday, May 1,  5-7pm.