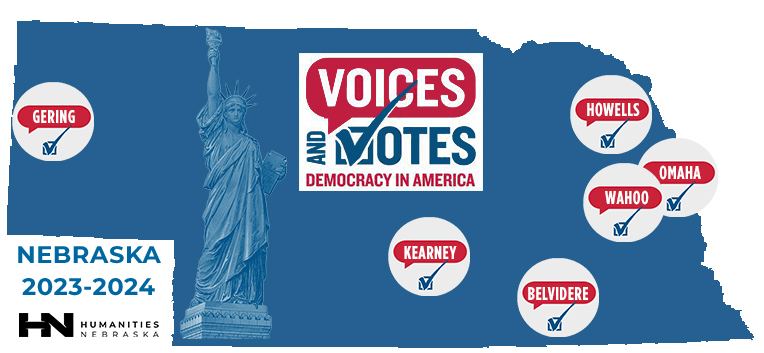 Smithsonian "Voices and Votes" Exhibition Launches 6-city Nebraska tour in Howells April 15
Humanities Nebraska (HN) has announced that a new traveling exhibition from the Smithsonian titled "Voices and Votes: Democracy in America" will open at the Howells Historical Society Museum on April 15 and run through May 26. Located at 224 Center Street, the museum is open Tuesday – Saturday from 11 a.m. to 3 p.m.
"Voices and Votes" is based on a major exhibition currently on display at the Smithsonian's National Museum of American History called "American Democracy: A Great Leap of Faith." It has many dynamic features: historical and contemporary photos; educational and archival video; engaging multimedia interactives with short games and additional footage, photos, and information; and historical objects like campaign souvenirs, voter memorabilia, and protest material.
"I believe that 'Voices and Votes' will inspire many Nebraskans to think about and discuss the importance of our right to vote and the sacrifices that so many people made to ensure that this privilege is afforded to citizens of all backgrounds," said Mary Yager, HN Associate Director. "It's exciting to think about the conversations that will be sparked among visitors of all ages.
Humanities Nebraska is collaborating with Civic Nebraska to offer special resources to "Voices and Votes" communities. With its mission to build a more modern and robust democracy for
all Nebraskans, Civic Nebraska is a natural partner as "Voices and Votes" tours the state. Civic Nebraska will encourage school field trips to see the exhibition and provide a variety of interactive activities and workshops at various exhibit locations including a voting simulation, Civic Sidewalk Series to educate community members about voting and provide upcoming election information, and civic health presentations on topics such as election integrity and confidence in elections. Sites hosting the exhibition can choose from a menu of offerings.
Following its six weeks in Howells, "Voices and Votes" will be on display in the following communities:
Kearney: June 5-July 10, Trails & Rails Museum
Belvidere: July 19-August 20, Thayer County Historical Museum
Wahoo: August 29-October 7, Saunders County Historical Museum
Gering: October 16-November 20, Legacy of the Plains Museum
Omaha: December 1-January 27, 2024, Great Plains Black History Museum
"Voices and Votes" is part of Museum on Main Street, a collaboration of the Smithsonian Institution and Humanities Nebraska. This exhibition is brought to Nebraska with funding
support from Nebraska Cultural Endowment, the Nebraska Trucking Association, and other generous donors. More information is available at www.humanitiesnebraska.org/voices.
Museum on Main Street is a partnership between the Smithsonian Institution Traveling Exhibition Service and state humanities councils nationwide that serves the small-town museums and citizens of rural America. Support for Museum on Main Street has been provided by the United States Congress.
Humanities Nebraska is celebrating 50 years of what connects us and makes us human. Let your curiosity get the best of you and discover events throughout 2023 and during Humanities Week in October. HN is a private nonprofit with a mission to help people explore what connects us and makes us human. HN is funded in part by the NEH, an appropriation from the Nebraska Legislature, private donations, and the Nebraska Cultural Endowment, a public-private partnership with state dollars matching private dollars to benefit the arts and humanities in Nebraska.