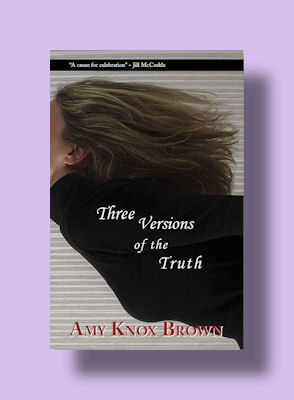 Stories Are My Livelihood
Amy's Story
As my mother tells it, there was never a time in my life when I didn't love stories. From the time I was born until I turned two, my parents and I lived in the apartment on the second floor of my grandfather's house. Grandpa would come upstairs every morning around nine a.m. to read to me for half an hour. If he was even a few minutes late, my mother says, I'd go to the top of the stairs and call for him.
Later on, I discovered the pleasure of writing my own stories. In junior high, I took on an extended, extraordinarily melodramatic project involving teenage love. Every night, I typed up another installment on the electric Smith-Corona typewriter my parents had given me as an early ninth-grade graduation gift. I'd bring the fresh pages to school and share them with my friends. At the end of the story, the boy is killed in a plane crash (of course he is killed—what could be more satisfyingly tragic for thirteen-year-old girls?) I remember my friend Diane reading this section in the lunchroom at Pound Junior High and beginning to weep. "It's so sad!" she said as we handed her napkins to wipe her face. What enormous satisfaction I felt at that moment: I'd managed to create a story that actually moved a reader to tears.
What enormous satisfaction I felt at that moment: I'd managed to create a story that actually moved a reader to tears.
I've moved on from melodrama, though I still appreciate the occasions when readers respond to my work. My life has revolved around reading and writing, and so it makes sense that I went on to become an English professor. I directed the creative writing program at Salem College in Winston-Salem, NC, for several years, and am presently an assistant professor of English at College of St. Mary in Omaha, where I teach American Literature and creative writing. I know that not every student loves (or even likes) to read and write, but my favorite moments are when I watch the class as they work on an in-class writing assignment, and some of them become so engaged in the act of creating their own stories that they begin, unconsciously, to smile.
About Amy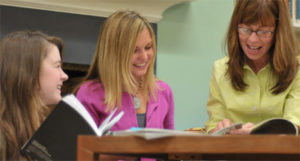 A fourth-generation Nebraskan, Amy Knox Brown is the author of a story collection, Three Versions of the Truth, and a poetry chapbook, Advice from Household Gods. She holds a Ph.D. in English/Creative Writing from the University of Nebraska, a JD from Nebraska's College of Law, and an MFA from North Carolina State University. Poetry, fiction, and nonfiction have appeared in Virginia Quarterly Review, Spoon River Poetry Review, Crab Orchard Review, and other publications. Her work has received a Vreelands Award, the Mari Sandoz/Prairie Schooner Prize in Fiction, and a 2015 Nebraska Arts Council Individual Artist Fellowship Merit Award. She lives in Lincoln with her husband and is currently working on a nonfiction manuscript that combines memoir and true crime.