Telling an Endless Story
How does one tell an endless story in a way that captivates imagination while providing concrete examples?
This was the challenge faced by the Nebraska Cultural Endowment when we revisited our creative strategy. A creative strategy uses images and text to share a message with an audience. For many years, the Endowment's creative strategy focused on "arts and humanities livelihood," sharing the importance of arts and humanities on Nebraska's economic engine.
While this message of economic impact is still important and continues to be part of our messaging, like all creative strategies, "livelihood" became tired and used to the point that the audience (you!) no longer noticed it.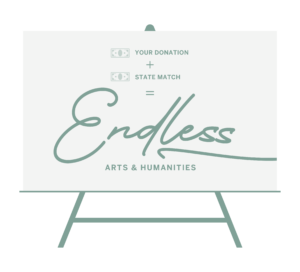 Earlier this summer, the Nebraska Cultural Endowment launched a new website and creative strategy that focuses on the word "Endless" and uses a variety of photos portraying and humanizing the disciplines that the NCE helps make eternal in Nebraska. For example:
Endless Art
Endless Theatre
Endless History
Endless Music
Endless Conversations
Endless Literature
You can find these examples at the top of our home page: www.nebraskaculture.org.
This creative strategy helps define the "cultural" in Nebraska Cultural Endowment and illustrates different examples of cultural topics and projects funded by NCE. The word "endless" also implies that your financial support ensures these priorities will continue for generations to come.
We hope you'll peruse our new website to see examples of how your donations will ensure Endless cultural opportunities for all Nebraskans.