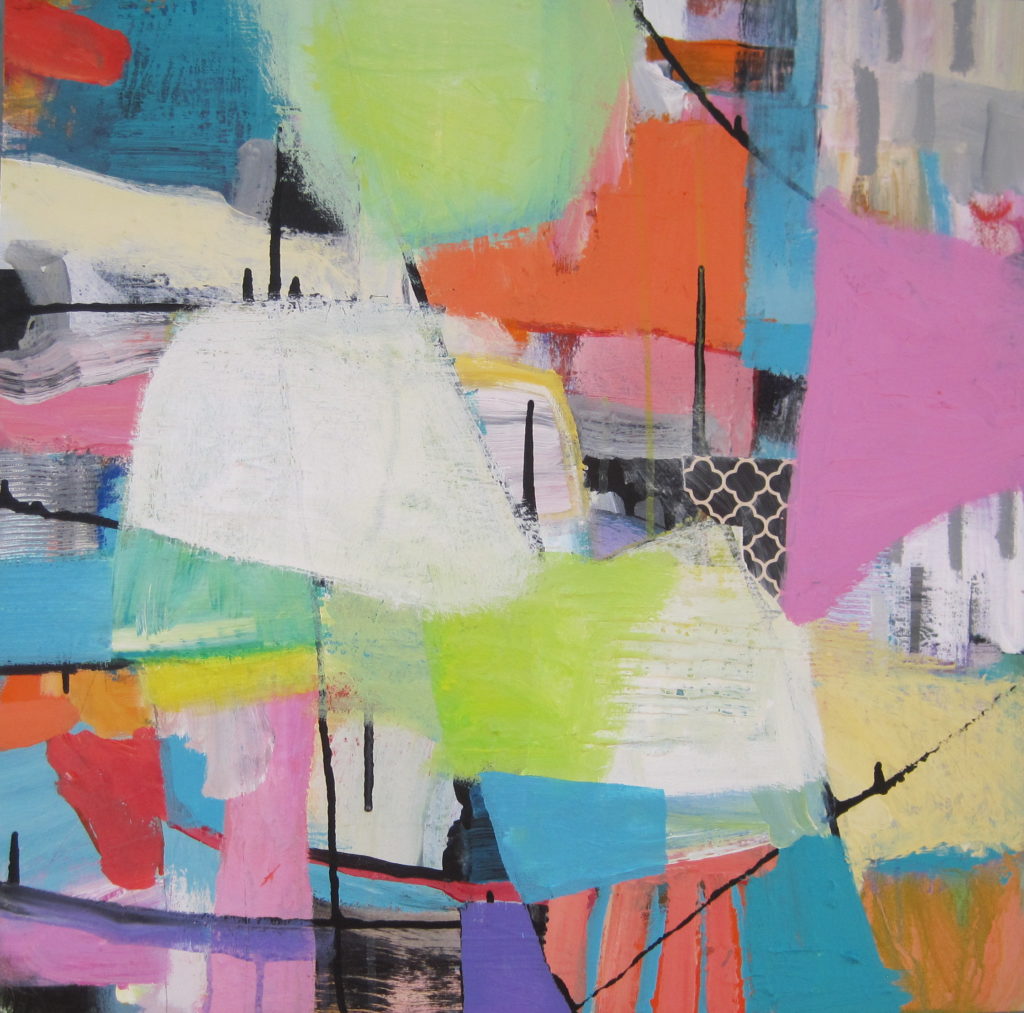 Translating Beauty Is My Livelihood
Over and Under, acrylic, paper and graphite on wood, 24"x 24" x 1.5"
Michelle's Story
I grew up in Omaha, Nebraska, where art has been important part of my life from an early age. When I was a young child, my Mom saw my need for creative expression through art. She took me too many local art exhibits, galleries and festivals. I was introduced to working artists and took private lessons from a few. I fell in love with the act of creating and the immersive lifestyle that artists seem to live. From that point on, I realized that I was a painter.
Painting for me is about problem solving. I attempt to explore my intuitive responses to my life and experiences. I have sought to produce bold, outgoing images through my private and internal struggles to come into harmony with myself. My subject matter usually centers on a symbolic narrative. I expect the viewer will become involved in his or her own interpretations. I am concerned with conveying the range of primal emotions that every individual feels. I attempt, through my own understanding of the emotions I experience, to reach out universally with my images, trying to share what other might feel. It is my hope to achieve this with the overt physicality of the abstractions combined with active and expressive color. The work elicits an emotional response because it is at once aggressive and pleasurable. These are celebratory images, even when they display anger or aggression. They are so in the sense that even when these negative emotions are explored, they are treated as passionately and forcefully at the less destructive emotions.
To me, my work conveys the urgency in acting on one's own emotions. These internal feelings spring from outside stimuli and are acted out aggressively. Since I am a private person, I feel my work speaks visually of my personality in ways that I choose not to speak verbally. It explores the depth of my soul and mind. When I work on these images, the universality of the range of primal emotions alive in every individual is explored on a grand scale and for this reason I feel they are objects to which every person can relate in one way or another. My intention is to translate the beauty of the human experience through the paintings I produce, not simply by explaining but by evoking.
About Michelle
Michelle Daisley Moffitt lives and works in Omaha, Nebraska. Her abstract paintings focus on the emotive impact of color through the use of shape, pattern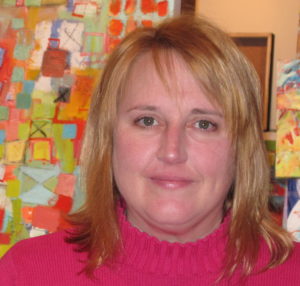 and texture as they relate to natural forms. Her work is in private collections throughout the United States, Canada, the United Kingdom and Australia. Her paintings have been exhibited in many galleries and museums, including Guy Lyman Fine Art in New Orleans, Louisiana, Holter Museum of Art, in Helena, Montana and Dundee Gallery in Omaha, Nebraska. She received her MFA from the University of Missouri- Columbia in 1993.
The work of Michelle Daisley Moffitt and Ron Quick will be featured in an exhibit from June 15 –
July 24, 2015 in the Fred Simon Gallery located in the Nebraska Arts Council Offices in Omaha, NE. Opening Reception – Friday, June 12th 5-7pm.
Click here to see more of Michelle's work.